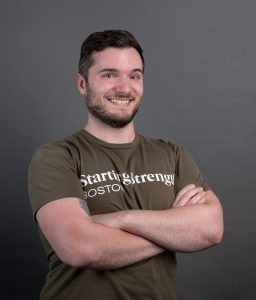 An alumnus of Berklee College of Music, Michael developed a love of teaching when he began giving guitar lessons in 2016. Upon the opening of Starting Strength Boston in 2021, he began apprenticing and transferred that passion and enthusiasm into barbell coaching. Michael found out about Starting Strength via the internet in 2019 and began his novice linear progression weighing 140lbs. His confidence improved, his anxiety faded, and his lifts went through the roof. A native New Englander, Michael is interested in fostering a community of strong, confident lifters and providing for them the same life-changing benefits that Starting Strength has provided for him: A discipline, a hobby, and a home.
Personal training at Starting Strength Boston
Intro sessions to learn the lifts
One-on-one coaching in a small group format
Semi-private coaching
Starting Strength Gyms Online Coaching
Customized programming
Remote coaching for each of your lifts
Get stronger or get a full refund
$225/month — No contracts. No fees. Cancel anytime.
Online Coaching Membership Includes:
TrueCoach Access - Communicate with your coach, access your programming, and upload videos for form checks
Dedicated Attention - Feedback on your lifts to ensure safe and effective technique
Individual Programming - Each trainee gets individualized programming to maximize progress
Nutrition Advice - General nutrition recommendations to help you achieve your goals
Instructional Videos - To help you perform the lifts in line with the Starting Strength model
World-Class Coaches - The Starting Strength Coach certification is the most advanced in the industry
Community - Online trainees are welcome to join Starting Strength Gym member events
Fair Policies - We don't do what other online coaching services do - no contracts, no hidden fees
Schedule a free phone consultation to discuss your training goals with a member of our Online Coaching team