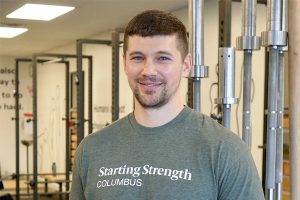 Jarret grew up in Northwest Ohio where he found a love for sports and fitness. While in college at Bowling Green State University, he enlisted and served eight years in the Marine Corps Reserve. In 2019, while working as an ACSM Certified Exercise Physiologist, he first learned about the Starting Strength method. He has been training himself, as well as his clients, using the Starting Strength program ever since. Jarrett has a strong passion to help people achieve a higher quality of life and looks forward to coaching at Starting Strength Columbus.
Personal training at Starting Strength Columbus
Intro sessions to learn the lifts
One-on-one coaching in a small group format
Semi-private coaching
Online Coaching from Starting Strength Columbus
Customized programming
Remote coaching for each of your lifts
Get stronger or get a full refund
$275/month — No contracts. No fees. Cancel anytime.
Online Coaching Membership Includes:
TrueCoach Access - Communicate with your coach, access your programming, and upload videos for form checks
Dedicated Attention - Feedback on your lifts to ensure safe and effective technique
Individual Programming - Each trainee gets individualized programming to maximize progress
Nutrition Advice - General nutrition recommendations to help you achieve your goals
Instructional Videos - To help you perform the lifts in line with the Starting Strength model
World-Class Coaches - The Starting Strength Coach certification is the most advanced in the industry
Community - Online trainees are welcome to join Starting Strength Gym member events
Fair Policies - We don't do what other online coaching services do - no contracts, no hidden fees