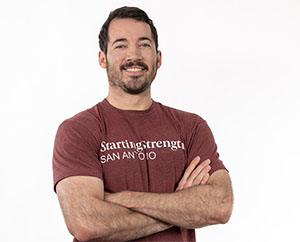 Matthew Hebert's athletic journey began at a young age and developed into him playing baseball at the collegiate level, attending East Texas Baptist University and then Stephen F. Austin University. Here he earned a bachelor's degree in Business Administration, but found his true calling upon discovering the Starting Strength methodologies in the Fall of 2019. His journey of coaching began in 2020 under the auspices of both Brent Carter SSC and Jordan Burnett SSC. To hone his abilities as a coach, he studied coaching practice and theory with Nick Delgadillo SSC, Darin Deaton SSC, and Josh Wells SSC, with special attention to the squat, the olympic lifts, and injury management and prevention. In the spring of 2021, Matt attended the Starting Strength Seminar and continues to deepen his skill base through the Starting Strength Coach Development Course. This unending process inspires his drive for excellence as he continues to develop his proficiency as a lifter and, especially, as a coach for Starting Strength San Antonio. Matt tested and passed his platform exam for the Starting Strength credential in February 2022, and officially became a Starting Strength credentialed coach after passing the oral board knowledge assessment in March 2022.
Personal training at Starting Strength San Antonio
Intro sessions to learn the lifts
One-on-one coaching in a small group format
Semi-private coaching
Online Coaching from Starting Strength San Antonio
Customized programming
Remote coaching for each of your lifts
Get stronger or get a full refund
$275/month — No contracts. No fees. Cancel anytime.
Online Coaching Membership Includes:
TrueCoach Access - Communicate with your coach, access your programming, and upload videos for form checks
Dedicated Attention - Feedback on your lifts to ensure safe and effective technique
Individual Programming - Each trainee gets individualized programming to maximize progress
Nutrition Advice - General nutrition recommendations to help you achieve your goals
Instructional Videos - To help you perform the lifts in line with the Starting Strength model
World-Class Coaches - The Starting Strength Coach certification is the most advanced in the industry
Community - Online trainees are welcome to join Starting Strength Gym member events
Fair Policies - We don't do what other online coaching services do - no contracts, no hidden fees