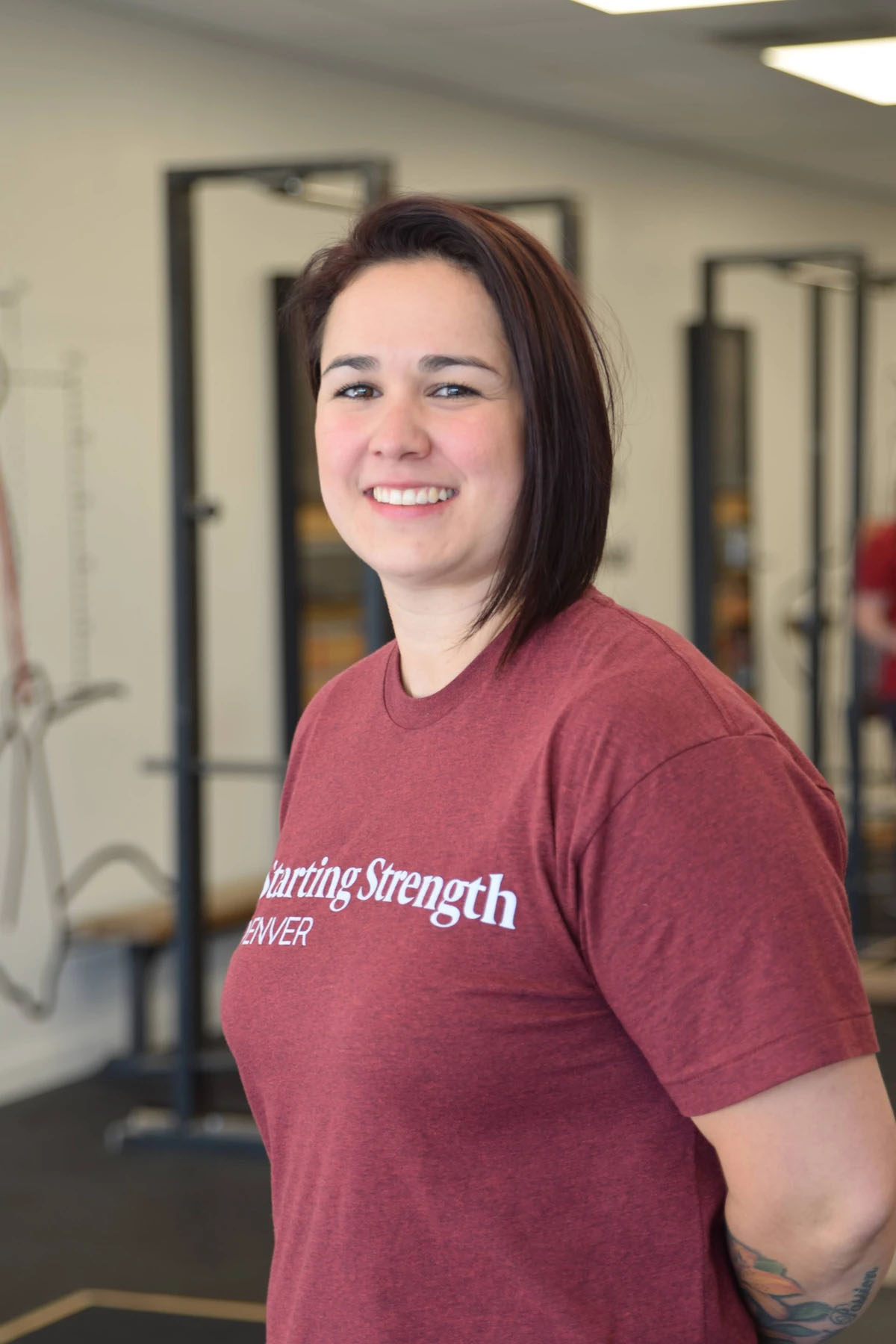 Amanda is an SSC who currently coaches out of the Starting Strength Beaverton location. She is originally from the Chicagoland area, and started her strength coaching career at the collegiate level from 2013 through 2019. She decided on strength and conditioning after spending 4 years as a starter for the softball team at Northern Illinois University. She spent her first two years as a graduate assistant in the weight room at NIU. After that she accepted her first assistant position at Sacramento State where she was introduced and exposed to the Starting Strength Method and books which she continued to use with her athletes in the collegiate setting. In 2017, she moved to accept the position of Olympic Director of Sports Performance at her alma mater where she spent another two and a half years.
She has been coaching at SS Beaverton since its opening in 2022. Prior to that she spent just under two years at SS Denver as the evening Staff Coach. She has experience both personally training and coaching Olympic Weightlifting and Sports Performance (Speed-Agility-Conditioning). As well as experience coaching a wide range of age demographics and abilities.
Personal training at Starting Strength Beaverton
Intro sessions to learn the lifts
One-on-one coaching in a small group format
Semi-private coaching
Starting Strength Gyms Online Coaching
Customized programming
Remote coaching for each of your lifts
Get stronger or get a full refund
$225/month — No contracts. No fees. Cancel anytime.
Online Coaching Membership Includes:
TrueCoach Access - Communicate with your coach, access your programming, and upload videos for form checks
Dedicated Attention - Feedback on your lifts to ensure safe and effective technique
Individual Programming - Each trainee gets individualized programming to maximize progress
Nutrition Advice - General nutrition recommendations to help you achieve your goals
Instructional Videos - To help you perform the lifts in line with the Starting Strength model
World-Class Coaches - The Starting Strength Coach certification is the most advanced in the industry
Community - Online trainees are welcome to join Starting Strength Gym member events
Fair Policies - We don't do what other online coaching services do - no contracts, no hidden fees
Schedule a free phone consultation to discuss your training goals with a member of our Online Coaching team